Strategies for Enhancing Community Involvement and Engagement in Public Private Partnerships
Professor Lalit Johri, former Senior Fellow in International Business and Director of the Oxford Advanced Management and Leadership Programme at Saïd Business School, University of Oxford, UK
Community resistance towards Public Private Partnerships (PPPs) continues to be a major hurdle in adopting PPP as a vehicle for accelerating the implementation of public projects in many countries. The community resistance has been observed at different stages in the PPPs – from concept to post completion stages. In many countries society as a whole rejects the concept of PPPs in ideological terms, people see PPP strategy as a mechanisms to privatize public services.
Many PPP projects are delayed or fail to take off because communities do not want to part with their ancestral lands or have environmental concerns. Many completed PPPs suffer market setback because communities or users find the PPP services either too expensive or inconvenient. New research and practices have opened doors in overcoming community resistance towards PPPs. In this webinar, we will discuss strategies for enhancing community involvement and engagement by treating communities as strategic partners and consumers within the societal purpose of the PPPs and business framework of PPPs.
Friday, 26 February 2021
12:30 pm to 13:30 pm (Hong Kong time)
Presentation will be conducted in English
Online via ZOOM
Admission to Webinar is free of charge and on first-come-first-serve basis
Speaker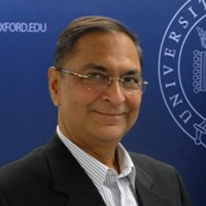 Professor Lalit Johri, former Senior Fellow in International Business and Director of the Oxford Advanced Management and Leadership Programme at Saïd Business School, University of Oxford, UK
Professor Lalit Johri is the Honorary Advisor of the Institution of Public Private Partnerships in Hong Kong advocating to create a platform for our members to maximize the PPP opportunities overseas and China. He has been an academic in the field of international business for over forty-five years.
Until the end of his tenure in October 2019, Lalit served as full time Senior Fellow in International Business and Director of the highly regarded Oxford Advanced Management and Leadership Programme at Said Business School, University of Oxford. Currently, he is advising policy makers and corporate leaders in Asia.
Prior to joining the University of Oxford, Lalit served as Professor of International Business at the Asian Institute of Technology (AIT) School of Management in Thailand, where he was a founding director of the School's Executive MBA programme. He was also a tenured professor at the University of Delhi in India. His areas of expertise include strategy and leadership in international businesses, alliances including public–private partnerships, public policy and institutional reforms in developed and developing countries. His work examines the impact of social, political, economic and technological shifts, strategy choices, leadership, and strategy execution practices on organisation performance.
Moderator
Professor MW Chan, Adjunct Professor of The University of Hong Kong, Professor of Practice at The Hong Kong Polytechnic University
Professor Chan is currently Consultant of TP
M
A Consulting Limited. He is a Chartered Surveyor (FRICS FHKIS) and holds a PhD from The University of Hong Kong specializing in Project Funding. He also graduated from the University of Oxford with a MSc in Major Program Management. He is the Honorary Advisor of the Institute of Public Private Partnership in Hong Kong. Professor Chan's professional expertise include project funding, project & asset management, major program management and strategic planning. He has over 40 years' professional experience in project and asset management locally and overseas. He has held senior positions in both the public and private sectors.
Webinar Sponsor

About ATAL Engineering Group
Established in 1977, ATAL Engineering Group ("ATAL") is a leading electrical and mechanical engineering service provider headquartered in Hong Kong, with operations in Macau, Mainland China, the United States and the United Kingdom. Serving a wide spectrum of customers from public and private sectors, the Group provides multi-disciplinary and comprehensive E&M engineering and technology services in four major segments, including Building Services, Environmental Engineering, Information, Communications and Building Technologies ("ICBT") and Lifts & Escalators. ATAL's parent company, Analogue Holdings Limited, is listed on the Main Board of the Stock Exchange of Hong Kong (Stock Code: 1977).