"Building the Public Services of Tomorrow" Breakfast Talk organized by British Chamber of Commerce in Hong Kong on
Wednesday 4 October 2023, HK Club, Hong Kong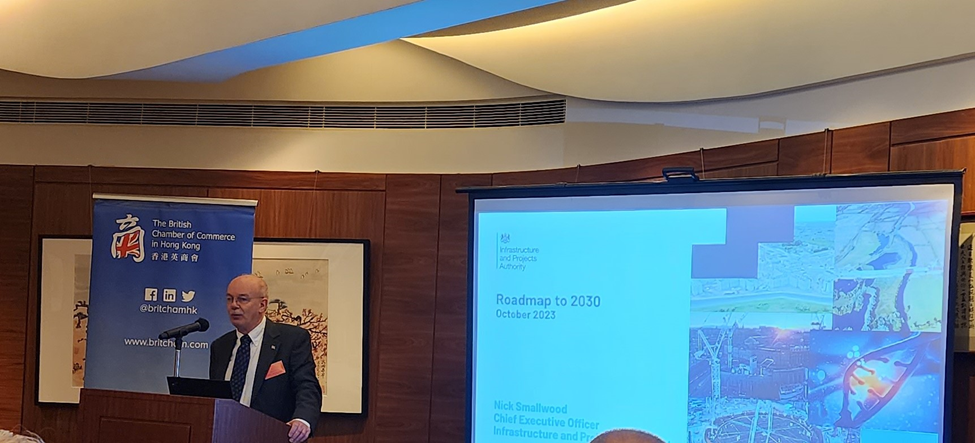 On 4 October 2023, the British Chamber of Commerce in HK organized a breakfast event at the HK Club, Central on the "Building the Public Services of Tomorrow" presented by Mr. Nick Smallwood, Chief Executive, Infrastructure and Projects Authority, UK. In the presentation, Mr. Smallwood shared the latest developments in the construction and related sectors in the UK, including the current infrastructure and public facilities. He gave an insight on the UK government's ambitions and strategies to support the delivery of world-class, innovative and life-changing projects and programme.
These major projects deliver government's commitment to drive economic growth, innovation and net zero in the years ahead. These projects included railways, roads, schools, hospitals and housing, energy, telecommunications, Innovation and Technology etc.
In response to question raised by Mr. Billy Tam regarding the current status of PPP projects in UK, he advised that UK Government has extensive experience in the implementation of PPP infrastructure projects and the IRA is prepared to share them with interested parties in Hong Kong.
Our Chairman, Mr. Billy Tam and Vice-chairman, Mr. Francis Sootoo, attended the Breakfast Talk to understand the current funding methods and project delivery challenges as well as connecting with potential partners who share the same interests in promoting the different types of PPPs.
Date of Press Release – 6th October 2023