IPPP Update


IPPP Webinar titled "Financing Public Private Partnerships - Attracting and Deploying Private Capital"
held on 18 June 2021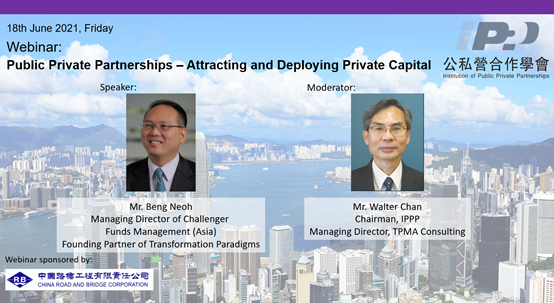 Mr. Beng Noah, Managing Director of Challenger Funds Management (Asia) and Founding Partner of Transformation Paradigms conducted the IPPP Webinar titled "Strategies for Enhancing Community Involvement and Engagement in Public Private Partnerships" on 18 June 2021. Beng outlined the four main steps on attracting and deploying private capital on financing PPP projects. He concluded that fair profit-sharing mechanism can provide the right incentives for efficiency and distribution of benefits to raise equity.
IPPP would like to thank Mr. Walter Chan, Chairman of the IPPP to act as the moderator for the Webinar. IPPP also like to thank China Road and Bridge Corporation (HK) Limited (CRBC HK) for the sponsorship of this webinar. CRBC HK started its business activities in Hong Kong in 1988. After spending nearly 30 years of strenuous efforts, CRBC HK has diversified from its construction business into other businesses such as trading, real estate development, property leasing and infrastructure investment.
Full version of the IPPP Webinar video recording is available from the IPPP official website link below:
Youtube:
https://youtu.be/1XhLt8uYAvQ